U*H/JIG/C - Hinge jig Skeleton two part in case
The two part Contractor Hinge Jig is a portable fully adjustable block template set designed for recessing hinges in wooden doors & frames using a plunge router.
It is easy to use with minimal setting-up time, completing the job both accurately & quickly.
Used on-site & in joinery shops to increase productivity with excellent results.
Fully adjustable apertures for fire door requirements and renovation work.
Idea for fitting a new door in an old frame.
No need for marking out in the conventional way.
Quick & simple to set-up as the hinge is used as the pattern.
Clean & accurate recesses are achieved every time. Suitable for timber based doors & square butt hinges.
Can be used on both inside and outside doors, rebated frames and on maximum 1-inch thick fixed stops.
Use with a light duty plunge router with 1/4 inch collet.
Includes long reach 15/32 inch diameter with 1/4 inch shank TCT router bit and 1-3/16 inch screw-on style guide bush.
Adjustable edge guides with preset for hinge of 0.787 inch (20mm), 0.984 inch (25mm) and 1-3/16 inch (30mm).
Unibase may be needed.
Patent No. GB2490139
T4EK router requires a ref. UNIBASE or special guide bush ref. GB/T4/160.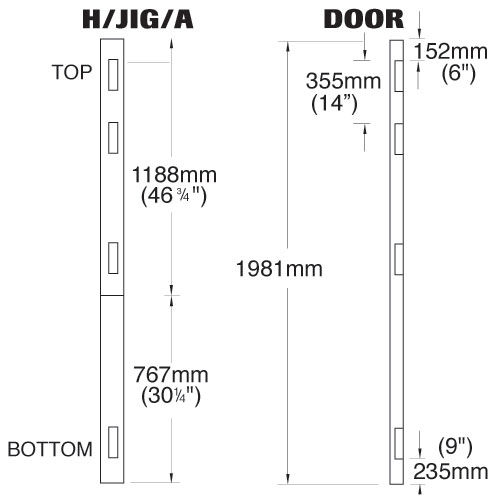 Length min.

2 5/8" (67 mm)

Length max.

5" (127 mm)

Width min.

1/2" (12.7 mm)

Width max.

1 3/8" (35 mm)
Door sizes possible
Height min.

6' 5" (1956 mm)

Height max.

2100 mm* (6' 10"*)

Thickness min.

5/8" (16 mm)

Thickness max.

2" (51 mm)
* Please note for doors over 80 5/16" (2040mm) the bottom hinge will be higher than 9" up.
Weight

6.4 Ibs (2.9 kg)

Jig overall length

77" (1956 mm)
Accessories