Returns, Servicing and Repair
Returns Policy

If you have purchased a Trend product from a stockist and wish to return the item for a refund, please contact them directly with your request. The stockist will then advise on their procedure for returning the goods.
For faulty products, please also contact your stockist for details on how to return the goods. A full inspection and additional information may be required prior to a replacement or refund being agreed.
Online Returns Policy
To return an item purchased through our website please contact our Customer Service Department on 00 44 (0) 1923 249911 or email us at customerservices@trend-uk.com within 14 working days of receipt and we will provide you with a Returns Authorisation Code.

To label your parcel, please use either the Returns Label (from the invoice sent with goods), or use the cut away section at the bottom of the Goods Return Form.

Please ensure the goods are returned in the best possible condition and include a copy of the completed Goods Return Form originally sent with your order. Goods should be returned via a prepaid, insured and traceable method to ensure safe and documented delivery. Goods that are lost in transit and are not sent with a traceable method will be the responsibility of the sender.

If it was our mistake, we will pay the carriage costs. If you received an incorrect item, if the item you ordered was faulty, or your order was damaged in shipping, we will cover the costs of the returning carriage. We will arrange with you the most convenient manner for the goods to be returned to us. We will be happy to explain how this works when you contact us.

We reserve the right to inspect all returned goods prior to arranging a refund.
The majority of our Power Tools have serial numbers which uniquely identifies the product. The serial number can be found:
On the guarantee card, beneath the barcode adhered inside a dotted box on the bottom right hand corner.
On the carton of the product .
On the product itself. On the back of the product there will be a silver label which includes the serial number.

When entering the Serial Number on the on-line guarantee form, please enter the complete serial number including dashes but omitting spaces.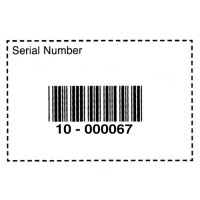 Servicing and Repair of Power Tools
We offer high performance power tools, backed up with our extended 3-year warranty when registered online
This offer is available for the following Trend Professional Power Tools; Product Refs. T5EB, T5ELB, T5EK, T5ELK, T5EK/MK2, T7EK, T10EK, T10ELK, T11EK, T11ELK, T12EK, T12ELK, T14EK, T18S/AG115, T18S/BJK, T18S/CD, T18S/CS165, T18S/DS, T18S/ID, T18S/MS184, T18S/R14, T18S/ROS125, T18S/SLB, T18S/TSS, T20K, T20LK, T35A and T35AL
Should your tool need a service or repair, Trend offers a fast and reliable warranty service to ensure your tool is repaired and returned to you with as little inconvenience as possible
For warranty repairs please complete our online repair form here
Once the form has been completed, our repair agents C J SINCLAIR LTD will contact you to confirm a suitable day for collection
For repairs outside of Warranty, please contact our repair agents directly and they will be happy to arrange a repair quote for you
C.J. Sinclair Ltd
Unit 27 Telegraph Hill Industrial Estate
Laundry Road
Minster
Ramsgate
Kent
CT12 4HY
Phone: 01843 823400
Mobile: 07927277408
Email: support@cjsinclairltd.com
Online Warranty Repair Service Process
Here's a simple chart to describe how our simple online warranty repair service works