2nd December: Trend keen to help hone sharpening skills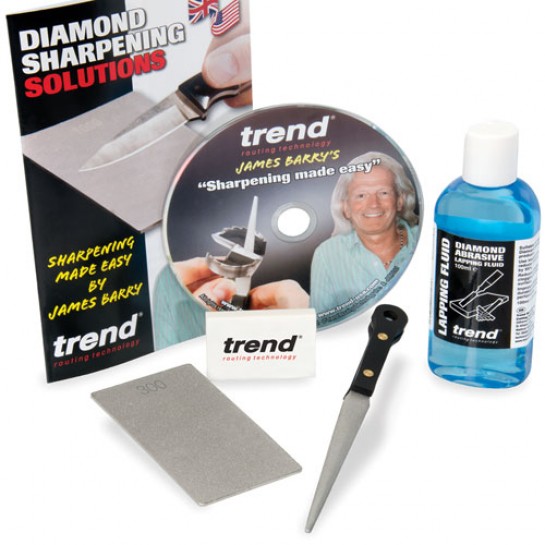 The new Trend Complete Sharpening Kit offers solutions to sharpening techniques and problems. The kit allows anyone the ability to sharpen tooling in seconds with precision diamond whetstones and means no-one needs to be wary of in-house maintenance.
Sharpening tools yourself means businesses, tradesmen and hobbyists, who are always looking at ways of reducing costs and overheads, can prolong tooling life, improve efficiency and save money.

The Trend Complete Sharpening Kit comes complete with a double sided credit card sized stone, 3 inch taper file, 100ml lapping fluid, cleaning block, non-slip mat, instructional DVD and Sharpening Made Easy booklet.

The sharpening stone uses a complex manufacturing procedure where electroplated Nickel locks the diamonds to the surface. This product will for last years if combined with our lapping fluid, which with its unique formula helps prolong the life of sharpening stones by preventing the clogging, rusting and subsequent lifting of diamond particles.

Trend are so confident of the sharpening stone and lapping fluid combination that they offer a 5 year guarantee with this easy to use, durable and versatile product.

You can now sharpen various tools including router and forstner bits, gouges, chisels and carbide inserts, with effective results every time.Sharpening tools yourself means businesses, tradesmen and hobbyists, who are always looking at ways of reducing costs and overheads, can prolong tooling life, improve efficiency and save money.
30th November: New Trend Snappy Additions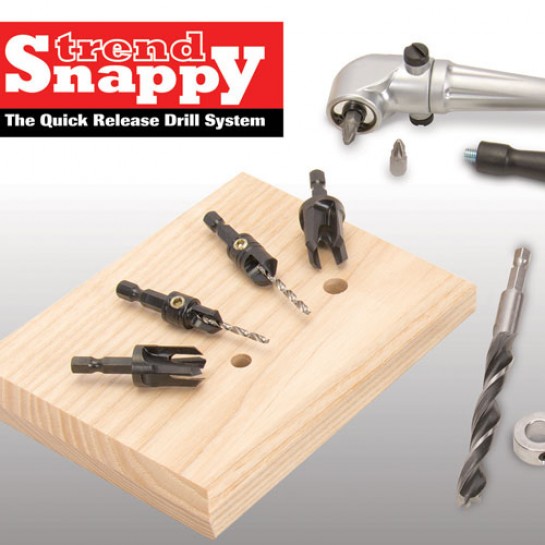 Trend has launched a selection of new products for its popular Trend Snappy Quick Release Drill System; a Compact Angle Driver; a new Plug Cutter and Countersink Set; Dowel drills and a Depth Collar pack.

The new Trend Snappy 90 degree Compact Angle Driver (SNAP/ASA/3) has a quick change shank and accepts 50mm power drive bits and 25mm insert bits and allows the user access to tight corners. It can be used in a corded or a cordless drill and has a magnetic fitting to secure the screwdriver bit and a die cast head with ball bearing guides for stability.

This new Compact Angle Driver also has a two position handle for maximum control and comes complete with a No 2 Pozi¨ 17mm mini bit and a 25mm No 2 Pozi insert bit.

Manufactured from a very high quality heat treated precision spiral bevelled steel gears for maximum torque, the SNAP/ASA/3 is perfect for kitchen fitters and joiners that need to get into tight spaces.

The new Plug cutter and Countersink set (SNAP/PC/A) consists of a 9.5mm (3/8') and a 12.7mm (1/2') hex shank Plug Cutter plus a No 8 drill Countersink and a new size No 10 drill countersink.

A new range of three hex shank dowel drills, which can be used with a Depth Collar pack have also been added to the Trend Snappy range. Manufactured from carbon steel in 6mm, 8mm and 10mm sizes, the roll fluted lip and spur dowel drills have centre points to aid control for drilling into wood when creating holes for dowels. A three pack of Depth Collars (SNAP/COL/PK1) has been introduced to be used with 6mm, 8mm and 10mm size dowel drills, and come complete with a hex key to allow depth adjustment.
30th November: Trend's New Aperture and Radius Jig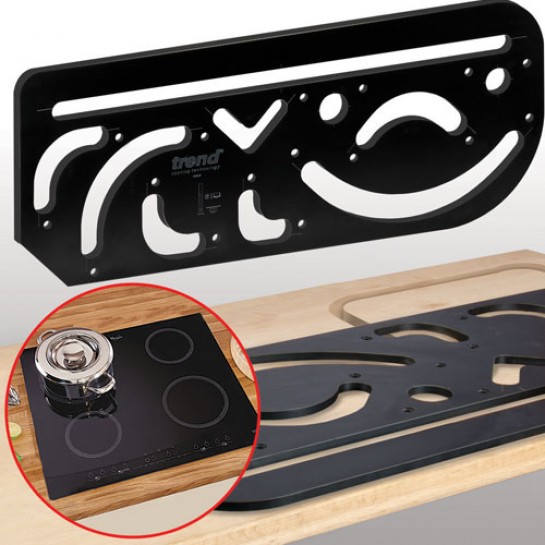 Trend has launched a new Aperture and Radius Jig (AR/JIG) to rout recesses, apertures and radii in worktops to fit a range of sinks, hobs and to suit curved cabinets.

The AR/JIG is made from a durable 12mm solid phenolic and allows both internal and external radii to be cut into the worktop. The jig has six radii curves of 40mm, 60mm, 80mm, 100mm, 150mm and 250mm, plus a 90 degree angle cut. There are also external radii corner curves of 50mm, 100mm and 200mm plus a 45 degree end cut. Each of the six radius curves is paired with a set of peg holes that will set the jig to the work top edge.

The AR/JIG also has a central slot to allow straight cuts up to 830mm long, which allows the four routed corners to be joined for a hob cut, and recesses for 26mm and 35mm cabinet door hinges.

There are engraved lines on the jig to position it on the worktop and there are engraved apertures, cutter and guide bush sizes for identification.
30th November: Trend's New Hot Rod Jig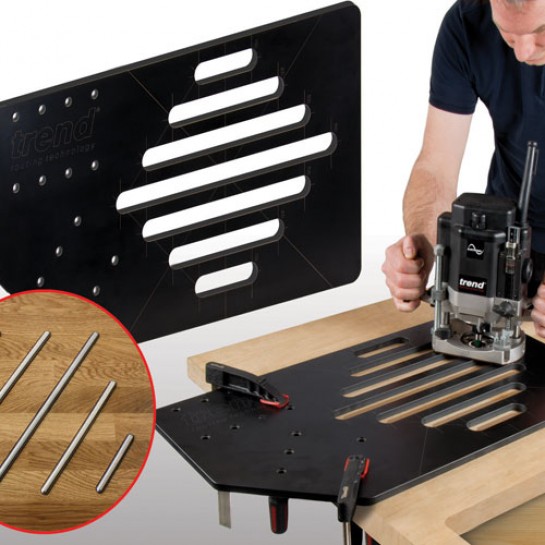 Trend has launched a new Hot Rod Jig for routing grooves in solid worktops to accept hot rods for the prevention of heat damage to the work surface.

The Hot Rod Jig (HR/JIG) is made from a durable 12mm solid phenolic plastic and allows 12mm or 12.7mm diameter hot rods to be fitted into the worktop by routing a recess into the work surface.

It is desirable to recess the rods into the worktop by approximately one third to one half of the hot rod diameter using a suitable size cove router cutter.
A series of peg holes at 50mm increments allow the recesses to be created at 45 degree or 90 degree to the work surface edge.
30th November: Trend's New Mini Pocket Hole Jig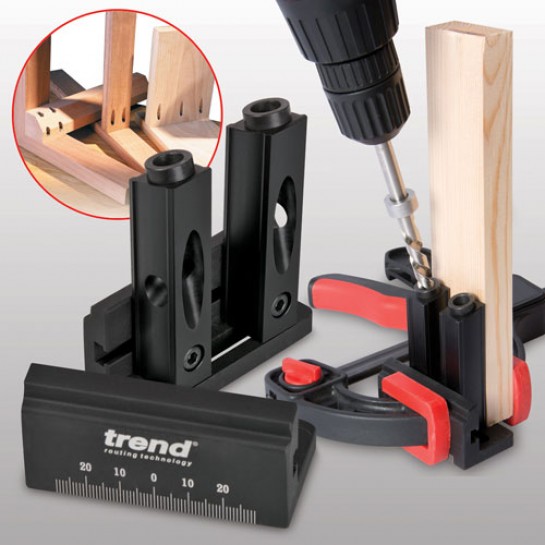 Trend has launched a new Mini Pocket Hole Jig (PH/JIG/M) for fast and accurate joining of timber and plywood giving strong instant joints.

The Mini Pocket Hole Jig is supplied with two bases; a long base for standard work and a flush short base that allows screws to be centred on the material thickness and for jointing into corners, which is ideal for refurbishment work. This new jig has solid bushes with variable adjustable pitches from 18mm to 54mm, which allows a material thickness of up to 38mm to be joined.

The PH/JIG/M can be used with timber, MDF, plywood and blockboard to make square corner joints, post and rails, curved joints and edge to edge joints, whilst the workpiece can be handled immediately after gluing and screwing saving time and money.

The Mini Pocket Hole Jig is supplied with a 9.5mm diameter stepped HSS drill with adjustable depth collar, 50 pieces of standard No 7 x 30mm screws, hex keys and a 150mm No 2 square drive bit.
21st November: New Short Worktop Bolts Pc/65/10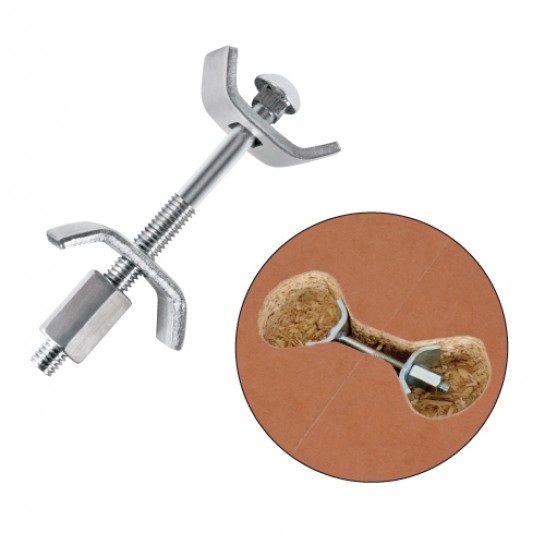 New shorter worktop connector bolts are now available.
The 65mm long bolts are ideal for joints near hobs. The short recess for the 65mm bolts can be routed with the KWJ700 and KWJ900 worktop jigs. The bolts are available in pack sizes of 10 pack, 50 pack and 100 pack.
Refs. PC/65/10, PC/65/0 and PC/65/100 respectively.
10th November: New P3(R) Filter for AIRACE Saftey Respirator
A P3(R) filter is now available for the AIRACE safety respirator replaceable filter system dust mask.
The ref. ACE/7 is a pleated encapsulated high efficiency filter. This multi-layer composite filtration media filter provides protection to classification P3, for use on hazardous particulates (APF20).
4th November: New Router Through Hole Drills 64 group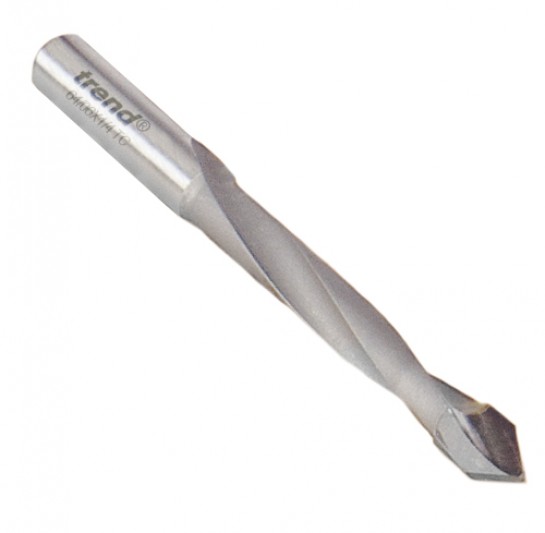 A new range of 1/4-inch router through hole drills is now available from Trend.
The two flute Tungsten Carbide Tipped router drills can be used on abrasive materials and are used to drill right through the material. The drills can be used in a plunge router or drill. Router drilling ensures the holes are perpendicular to the work surface. The 69mm overall length drills have diameters of 5mm, 6mm, 8mm and 10mm.
Refs 64/05X1/4TC, 64/06X1/4TC, 64/08X1/4TC, and 64/10X1/4TC, respectively.
10th October: Trend Celebrate Opening of 200th TRC at A1 tools & Fixing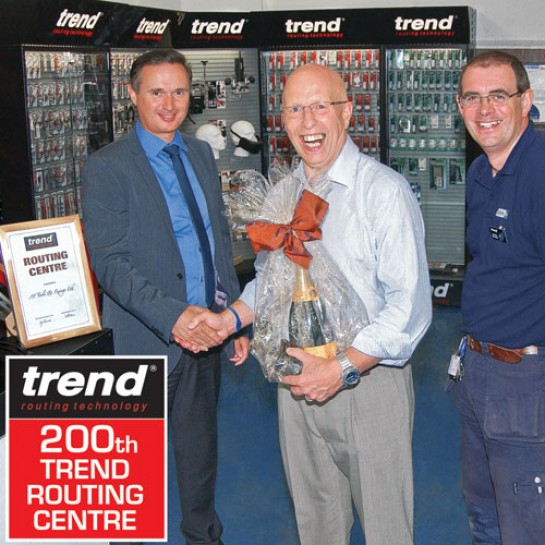 Trend introduced the Trend Routing Centre (TRC) programme to create stores where customers could see eye-catching in-store presentation units and buy a comprehensive range of Trend products.

Each TRC is committed to new Trend product campaigns and exclusive customer promotions throughout the year. Staff also receive a comprehensive training programme at Trend's HQ in Watford to enable them to give technical advice and information on Trend products to customers.

The TRC programme provides local stores with gold, silver or bronze levels of stocked display units, close to where customers live and work, where they can return with confidence to purchase Trend products from knowledgeable staff.

Combined with Trend's unrivalled technical support and customer service, TRC's offer customers a superior service at 200 locations across the UK and Ireland.

The 200th TRC was recently opened at A1 Tools & Fixings Ltd in St Albans and Trend Managing Director Jeff Willcocks was at the launch to assist with the celebrations. Jeff said, 'We set up the TRC programme over two years ago to ensure wider availability of stock for end users to purchase our products in the UK and Ireland. We are particularly pleased that it is A1 Tools & Fixings Ltd who are the 200th TRC in our ongoing programme and that the display units look so impressive in their store.'

David Muskett, Owner, was delighted saying 'We are very happy to be Trends 200th distributor and this really takes A1 Tools and fixings forward in what we are able to stock.'

Matt Royall, Shop Manager, was pleased, adding 'This takes us from 5 little cabinets to nearly 5 metres, it fits so perfectly and we are very happy with it'
30th September: Trend Industrial Tooling at W14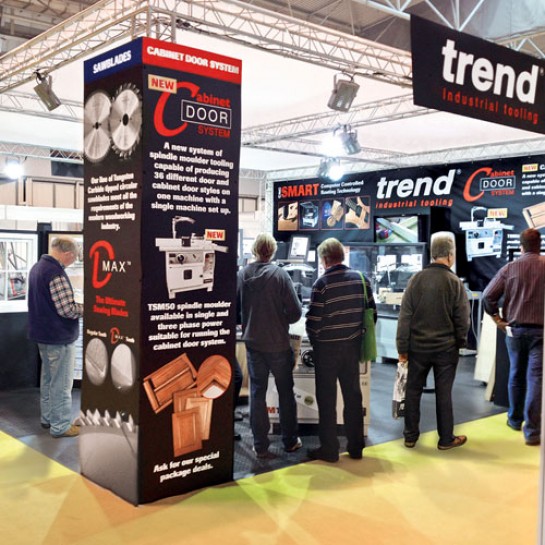 Trend Industrial Tooling will be at the W14 exhibition at the NEC, with demonstrations of their Modular Window System on stand 8E 535.
Come and see us produce an outer frame for a High Performance window, fully comb jointed and profiled from square timber, in less than 10 minutes.
The system has been developed for small to medium sized joinery companies, builders and developers to enable them to produce timber windows quickly and accurately on a spindle moulder with minimal set-up time and a low investment cost.

Visitors will be amazed at the quality and flexibility of the system, which can manufacture 8 different styles of window and doors. The spindle height and fence are set very quickly with the simple setting gauge and are not altered to produce all of the slots, tenons and profiles on all the eight different styles of window.

Other stand highlights include:
Our new Industrial Tooling catalogue with over 130 pages of innovative tooling for the modern joinery and furniture manufacturing industry will also be available.

The innovative Cabinet Door System. A new concept of tooling for manufacturing 9 different styles of cabinet and internal doors on a spindle moulder.

The CNC Smart Fast Y1300 machine will be on display. This fully enclosed CNC meets all the requirements of EN848 Part 3 and is suitable for customers without 3-phase power supply. Also on show will be a number of software solutions to meet the exacting needs of the industry.

Samples of our Tungsten Carbide tipped beam saw blades and scorers currently being used in some of the largest suppliers of laminated board in the UK and Europe.

If you are a small/medium sized joinery company, building firm or just want to make timber windows quickly and accurately on a spindle moulder, then come along to the NEC on the 5th to 8th October, and see how the Trend Modular Window System could save you a lot of time and money.
8th July: Trend support Men in Shes MK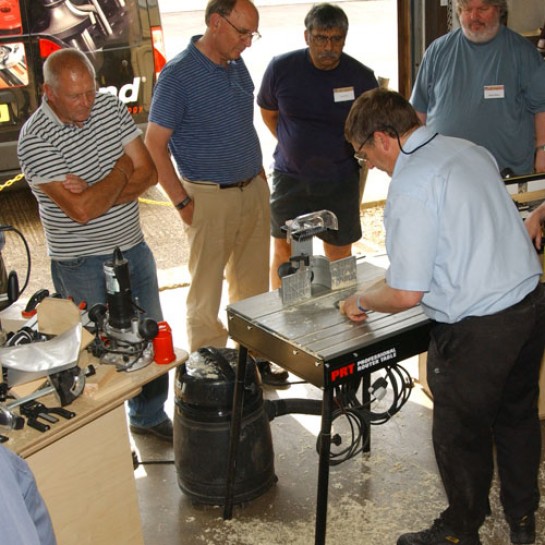 Trend is supporting the Men in Sheds activity group in Milton Keynes with equipment and product demonstrations. Men in Sheds aims to provide a place where men from all walks of life can get together to share their experiences and skills on a variety of projects.

The Men in Sheds Milton Keynes project was launched through a press announcement by a member of the public, and actively supported by Age UK Milton Keynes. With 80 or so men expressing an interest, there was a lot of enthusiasm but the limited accommodation and opening hours meant things developed slowly. Until by a fluke, an adjacent warehouse rented by Age UK became available and they generously let Men in Sheds have it rent-free for a year. The shed in Milton Keynes is a big Shed, over 4000 square feet, but this brings its own problems; £8000 a year rental cost. However, there is a sizeable woodworking area, with several 2-man working benches, lathes, band saw and table saw, planer/ thicknesser, handheld and table routers and dust extraction. There is also wood storage, but never enough.

There is also a modest metal working area, with 2 benches, welding, turning and milling. Then there is the model making area, several model railway layouts and aero model making taking place, along with a flourishing arts/painting section and occasional music sessions.

For those requiring a rest, there is the kitchen and lounge/office area.
The Trend product demonstrations showed the members routing techniques like profiling, edge-routing and moulding, working with router tables, dovetail jigs, mortice and tenons and pocket-hole joinery. Various members had the opportunity to try some techniques, which was a great experience, as many of them had never used a router before.

The shed is open Mon, Wed, Fri, 10 a.m. to 4 p.m, but there is no supervision, it is run and manned by the members, they do their own thing, but also engage in various community projects.

There are more than 50 active members, so if you are interested in becoming a member, please contact MIS MK by telephone on 01908 267126 or by email: info@meninshedsmk.og.uk or visit their website www.meninshedsmk.org.uk.
30th May: New 25mm Intumescent Strip Cutter 356X1/2TC
A new 1/2-shank bearing guided intumescent strip cutter for 25mm wide x 4mm thick is now available.
The Professional Range ref. 356X1/2TC cutter has two Tungsten Carbide Tips and can be used on abrasive material and is bearing guided to ensure a constant groove depth. Other bearings are available to allow different groove depths to suit other strip thicknesses.
Trends intumescent strip cutter range now includes cutters for use with 10mm, 15mm, 20mm and 25mm strip. The CraftPro range includes cutters with a 1/4-inch shank for use with smaller routers.
7th April : Trend's New 2014 Routing and Woodworking Catalogue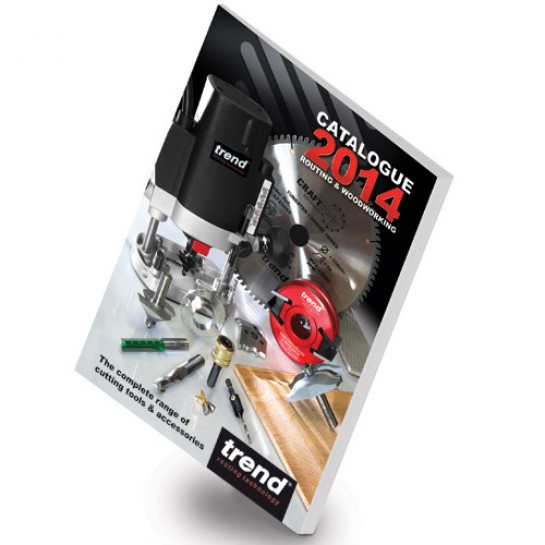 Trend has just launched their new 2014 Routing and Woodworking Catalogue. The catalogue launched on April 1st, shows their complete range of router cutters, power tools, routing jigs, woodworking accessories and Trend Snappy tooling.

It features over 75 new and innovative product lines including; the unique Skeleton Hinge Jig, Adjustable Lock Jig, Mini CNC and the popular measuring and marking tool, the Easyscribe.

The brand leading Professional router cutter range has been extended with new spirals for aluminium, 45 degree guided chamfers, a profile rebater, as well as plastic engraving tools.

The popular range of router cutter sets now has four new additions; 6 piece sets for 1/2' shank cutters; a 24 piece shank set and a 35 piece shank set.

The Trend Snappy range of over 300 Quick Change tooling products has also been extended with a 90 degree Compact Angle Driver and also a range of Dowel drills.

The time saving range of routing jigs also has two new additions; The Aperture & Radius Jig allows kitchen worktops to be routed to fit sinks, hobs and to suit curved cabinets; the Hot Rod Jig allows grooves to be routed into solid worktops to accept hot rods.

Ten years after the launch of the Pocket Hole Jig, Trend have now launched the Mini Pocket Hole Jig for the fast and accurate jointing of timber and plywood.

This new catalogue also sees the introduction of a fully guarded desktop Mini CNC machine for 2D and 3D engravings, photo images and routing projects. Ideal for the hobbyist or school.
14th March: W14 is Key for Trend's Success
Ian Small, Industrial Tooling Manager, of Trend Machinery & Cutting Tools Ltd. explains why W14 is an important date in their marketing calendar. Trend enjoys exhibiting. Not only that, we find the activity very beneficial to our business, which is important, considering we participate in 10 main shows across the UK every year.

Of course, nothing really compares with the size of W14, stretching over 3 halls at the NEC. Having a national exhibition for the joinery and furniture manufacturing sector is a really valuable event and we are pleased to see the way it has grown in recent years, even throughout the difficult recession period. Trend has been exhibiting their range of industrial tooling products at the NEC since the range was launched in 2004.

Our products are very hands-on and they sell by demonstration and face-to-face explanation of their multiple uses, which we have the opportunity to do at W14. W14 is a well market targeted show, so we know that almost everyone coming through the NEC doors is a potential customer for Trend. That's important as we can resource our show stand to match the expected demand. Our products sell at the show, but we have to take account of the fact that exhibition generated sales leads can be ongoing for many months after the event.

People remember what they see at a live event, it's a more personal experience. So the purchase might take place sometime after the exhibition, but it's meeting you and seeing the product demonstration at the event that they recall. We also find that visitors to an exhibition are open minded and looking for new products or opportunities for their business generally. Often they discover that advances in tools allow them to do things they had not previously thought possible and this is an opportunity for both the supplier and the buyer to benefit from.

We will again be demonstrating the Modular Window System tooling on our own flush mounted sliding table Spindle Moulder (TSM100). We will produce a complete outer frame for a High Performance timber window in a fraction of the time it would take to produce using 'conventional' techniques. An added advantage is that we can meet a lot of our existing customers. No business can just assume that it has customers for life anymore, and it's nice to exchange a few words with our customer base in this sector and of course show them the latest innovations.

The big manufacturers attend the show as a matter of course but, for us, the strength of the show is that it also reaches out to the smaller business, which is increasingly important in UK manufacturing. All in all, we'll be at the W14 exhibition because it's good for our business and I think we are good for the show. Sounds like a win-win!
4th February: Trend Modular Window System drives Joinery success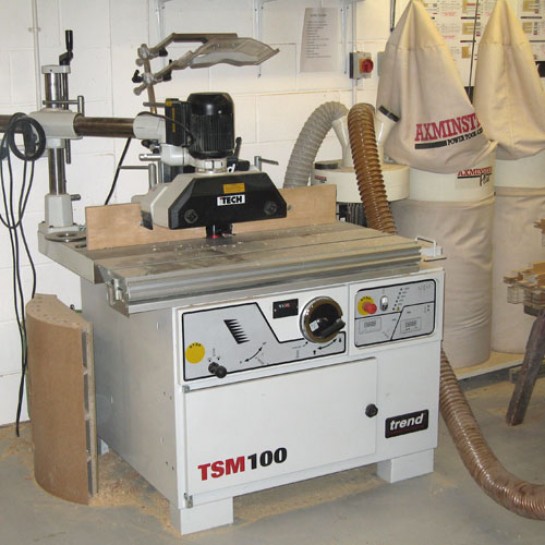 It was a chance meeting at the Northern Woodworking Show in Harrogate, North Yorkshire, which led Alex Hutt to take the decision to invest in the Trend Modular Window System.

Alex has worked as a cabinet-maker since leaving study in 1994. He set up his own workshop, in Ulverston, Cumbria, in 1999 and Alex Hutt Furniture expanded into new premises in 2010.The business concentrated on producing quality, bespoke, cabinet making and furniture design using traditional techniques in combination with the latest tool technology. Only the best raw materials are used, sourced from an extensive range of local and national suppliers.

Customers had often asked Alex to produce windows and doors, which, previously, he had passed on to other local joinery companies. During the tougher economic climate, Alex decided that he could no longer afford to give work away and started looking for an affordable solution for making timber windows and doors.Alex had heard about the Trend Modular Window System, but had been told by a local woodworking machinery dealer that it was too complicated. Alex had used many of Trend's standard router cutters and accessories since starting his furniture making business and had always been impressed with Trend's innovation and quality. Whilst visiting the Northern Woodworking show at Harrogate in November 2012, Alex visited the Trend Machinery stand where he met Colin Peacock and Ian Small from the Industrial Tooling division. They showed him finished sample windows that had been produced by customers using the Modular Window System and explained to him how the system worked.

The main advantages of the system, from Alex's point of view, were that the system only required one machine, a spindle moulder, with a flush mounted sliding table. Once the machine has been set, very quickly with a simple setting gauge, it isn't altered to produce all of the slots, tenons and profiles on the window outer frame and sash, considerably reducing the time it takes to manufacture a complete window. The other advantage for Alex, at that time, with his limited experience of window manufacturing, was that all of the tooling and spacers are numbered and Trend supply a wall chart with each of the window systems, showing all of the steps required for complete window manufacture. There are currently eight different styles of window available. The final factor that won the business for Trend was that all of the tooling and machine were available from stock in the UK.

Immediately after the show, Alex placed the order for tooling and machine with Grovewood Machines Ltd, Hampshire. Nick Groves at Grovewood installed and commissioned the machine and tooling in December 2012. At the end of the first quarter of 2013, Alex had achieved more sales making windows and doors that he'd managed in a whole year with his furniture business.The joinery side has become so successful that it has led Alex to set up a separate company, Evergreen Joiners Ltd, and one year after purchasing the system, Alex took delivery of a brand new four sided moulder from Grovewood Machines, to keep pace with his ever increasing order book for windows and doors. A spray booth, overhead tracking and spray equipment have been very recent additions to Alex's manufacturing capability and he now employs 4 full time staff, a part time administrator, and expects to be looking for another joiner very soon.

There are nearly 250 companies enjoying the benefits of the Trend Modular Window system throughout the UK and in-house demonstrations will continue to be run through our network of eight dedicated MWS dealers in 2014. Trend will also have a large presence at W14 at the NEC in October.